Prevolv Showroom
Originally called, "The Show & Tell & Experience Showing Off Showroom." After a 5-second company meeting, we opted for "Showroom." Seeing and showing makes a huge difference in knowing. You're invited.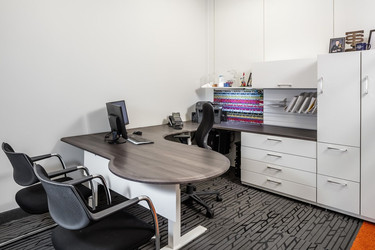 Workstations and Private Offices
This is where the work gets started and the work gets done. We put our hard-working, squinting, detail-oriented eyes on functionality and all the forms it can take. We drill down and dig in to bring innovative thinking to every aspect—from panel height, surface configuration, fabrication and finish to storage options, cabling and electrical to the branded details that make our work your home. We make it work right.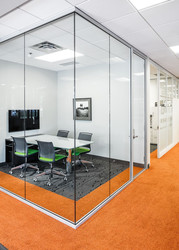 Architectural Interiors
We put down the sledgehammer and put on our thinking caps. Prevolving a space does not necessarily require demolition and steel-toed boots. We place a high premium on smart flexible interiors by way of enhancing existing surfaces, functional/dimensional post and beam configurations, clever doors that slide and hide, introduction of glorious daylight, unique space divisions and simply thinking from a 360° perspective.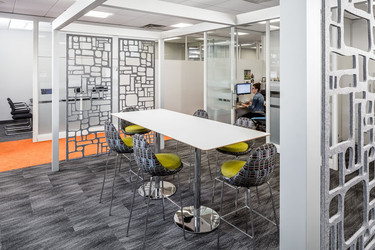 Meeting Spaces
There are meeting spaces and often there are spaces where meetings happen. At Prevolv, we appreciate the organic nature of collaboration and communication, but we also know that we can encourage, nudge and inspire meetings of the minds. Conference rooms, touch down and talk areas, break rooms and cafes can all be made more conducive and inclusive. Meet with us and see how.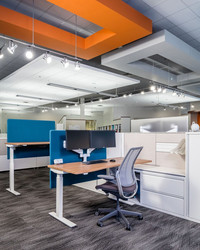 Ergonomics
We believe the mind and body deserve equal time when it comes creating the most efficient, productive, attractive and comfortable work environment. Ergonomics is about collaborating and cooperating with the actual way real human beings move. Seating and surfaces ascend and descend, monitors extend and retract, lighting focuses and relieves—we bring the innovation to you (or at least bring it conveniently and comfortably within reach).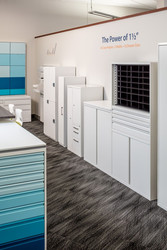 Common Areas/Storage
At Prevolv, common areas are never common and storage spaces are heavily stocked with innovation. These utilitarian spaces are given the same high-level attention as any part of your operation. We create mailrooms that deliver (sorry, we had to), stock areas that do double duty and stealthy storage spaces that emerge from nowhere. We attractively integrate shredding and recycling, design high-density, storage that can be manipulated with a finger (literally, a finger) and many more uncommon ideas.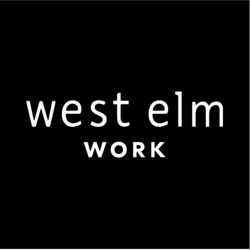 West Elm Work
While we don't encourage spending excessive time in the office—with West Elm, you'll be tempted. West Elm Work brings a uniquely warm, modern and stylish vibe to office furnishings and elements. This is high-end design with choice woods, finishes and fabrics that function. At Prevolv, we love a resource that allows us to exercise both sides of our brains—the techie left and the fashionista right. Step up with West Elm; and step forward.