Community Involvement
Leading with heart and compassion, Prevolv takes being active and positive participants in the local community earnestly. Volunteering time, resources and talents in our community as a team results in a meaningful connection with our community and each other.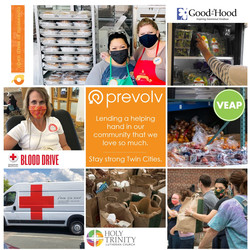 Racial Equity For All
Our hearts are heavy as we continue to witness the unrest in our community and feel it is time for significant change.  At Prevolv, we value and respect our team members and have been an active member of the communities of Minneapolis/St. Paul and Chicago for over 20 years.  Despite our past efforts, we are aware that the time is now to rise up for what is right for all.  Prevolv stands in solidarity with the current movement to eliminate racism once and for all.  We are committed to listening, learning, and providing our team with the necessary resources to educate themselves in a thoughtful, honest way and to make meaningful changes within our company and in our community.  We live by our values of trust, empathy, kindness and respect and it is time for us to put our values into action by stepping up our efforts to acknowledge that we need to do more and be an active part of the change. 
We would like to thank those on our team and in the community, who have already bravely acted with efforts to create a genuine stance against the inequality of others and will continue to look for ways to support those efforts moving forward.  To start our mission of change, Prevolv has chosen to celebrate Juneteenth as a paid company holiday and has given each member of our team additional paid time off to volunteer their time for the betterment of our community.
Prevolv is dedicated to making significant changes and contributions through our actions and how we do business.  We stand with you to rise up and become a leader in the Twin Cities and Chicago communities for equality, justice, and inclusion for all.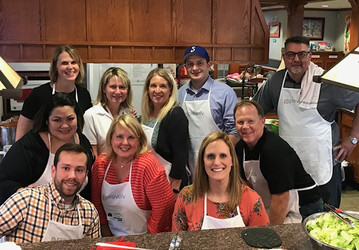 Ronald McDonald House
Since 2005, Prevolv has proudly supported the Ronald McDonald House in numerous ways. At least once a year the Prevolv Team plans and serves dinner to families staying at the Ronald McDonald House through the Cooks for Kids program. The Prevolv Team also prepares Breakfast in a Bag for parents to "grab and go" on their way to the hospital and we've stocked the Oak Street Pantry with urgently needed items. Every year the Prevolv Team adopts a family living at the Oak Street House and purchases gifts for each member of the family who is unable to celebrate the holiday season in their home. Prevolv also managed and sponsored the renovation of the Oak Street Family Room and has been a table sponsor at the Ronald McDonald House Gala.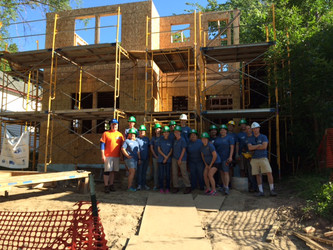 Habitat for Humanity
2016 was Prevolv's inaugural year with Habitat for Humanity. Prevolv closed the office for a full day so our entire team could volunteer with Habitat for Humanity and help build a new home for a deserving family.