Tis the Season for Giving
Once again, the Prevolv Team comes together to insure others have a happy holiday!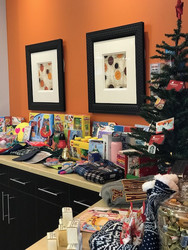 Prevolv is passionate about their community and again this holiday season, they were happy to help their local Ronald McDonald House residents celebrate the holiday with gifts for the whole family.  Donations of gift cards to Target, local restaurants, toys, warm weather gear and other gifts for all age ranges were given by the team to help the families of the Ronald McDonald House celebrate the holiday season and enjoy the gift of kindness.