Prevolvers enjoy an afternoon of baseball, ballpark food and good team fun!
The Prevolv Team gathered on a cool afternoon for a baseball game at Target Field to kick off the 2017 MLB season in support of their hometown team, the Minnesota Twins!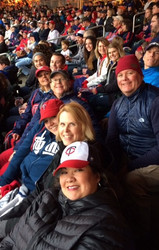 The afternoon was filled with Twins pride at Target Field as they beat the KC Royals in their first game of the season.  The Prevolv Team was there to cheer them on for the entire game!           GO TWINS!