Inscape and Prevolv Leave the Merchandise Mart to Open New Showroom in Chicago's Fulton Market This Fall
The new space will be on the 8th floor of the transformative 800 West Fulton Market Building.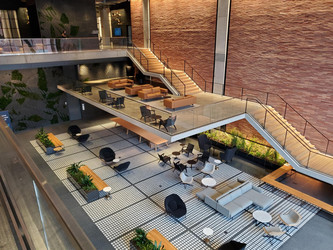 CHICAGO, IL: [6/22/21] Inscape, a renowned commercial furniture solutions manufacturer, in partnership with Prevolv, a leading contract furniture dealer, are proud to announce a move to 800 West Fulton Market, a new state-of-the-art office and retail space located in the heart of Chicago's Fulton Market District. The 8th-floor showroom will feature unobstructed, panoramic views of the bustling Fulton Market scene and sweeping views of the beautiful Chicago skyline with access to an outdoor rooftop and dining amenities.
The new 12,000 sq. ft. showroom will display Inscape and Prevolv's extensive product portfolios for their growing clientele in Chicago and its surrounding areas. Designed to be a one-stop shop for contract furniture solutions, the space features an educational product lab to help clients complete the design and fulfillment process all under one roof. Additionally, clients are welcome to enjoy a beverage, relax, or plug in from the showroom's in-house cafe.
A playful color palette was used to complement the brick walls and industrial character of the 800 Fulton Market building. Customers will be immersed in displays that demonstrate the different workplace planning styles popular in today's workforce. This includes solutions for the open office, private rooms such as conference and executive suites, work-from-home furniture, and other layouts built to accommodate collaboration, heads-down work, or touch-down needs.
In alignment with Inscape and Prevolv's commitment to environmental sustainability, 800 Fulton Market boasts over 50% green roof space, the highest designation for HVAC, energy and water usage, as well as LEED and Well Gold certifications and Platinum Wired Score. Also known as "The Smartest Building in Chicago," 800 Fulton offers the highest levels of wellness, connectivity and building intelligence in the area, making it an excellent place to work and entertain clients and visitors. 
CBRE's Liz McCleary, Paige Krueger, and Geoff Euston represented Inscape and Prevolv in the lease transaction. The showroom is slated to open in Fall 2021.
About Prevolv: Prevolv was founded in 1997 and quickly became a premier commercial furniture and architectural wall dealership with customers across the U.S. and Canada. Active in the commercial interior design industry for over 23 years, Prevolv has been partnering with customers to clarify their desires, develop innovative solutions, and offer quality products and services to enhance their work environment. Prevolv believes that a well-designed work environment leads to happy employees and a productive and profitable business. Join the Prevolution.
About Inscape: Since 1888, Inscape has been designing products and services that are focused on the future, so businesses can adapt and evolve without investing in their workspaces all over again. Our versatile portfolio includes systems furniture, storage, and walls – all of which are adaptable and built to last. Inscape's wide dealer network, showrooms in the United States and Canada, along with full service and support for all our clients, enable us to stand out from the crowd. We make it simple. We make it smart. We make our clients wonder why they did not choose us sooner.
www.prevolv.com  | www.myinscape.com  
Contacts:
Inscape – Kelcey McLaughlin at Kmclaughlin@myinscape.com  Taylor Rink at Trink@myinscape.com
Prevolv – Melanie Delianides at  Mdelianides@prevolv.com Jacob Esser at Jesser@prevolv.com