Celebrating 20 Years!
Prevolv Celebrates its 20th Anniversary in 2018 - Celebrate with us all year long!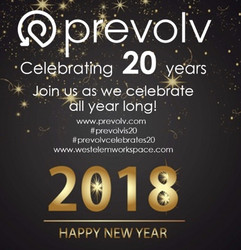 2018 marks 20 years in business for Prevolv.  As the look and feel of offices change, so does Prevolv.  Please join us on Instagram #Prevolv, Facebook, and LinkedIn as we celebrate all year long reflecting on who we are, what we have learned and look forward to the future of the commercial furniture business.  In addition to all the fun we have planned for the new year with our team and partners!  Prevolv is proud to be an intricate partner in the design process and continues to celebrate all things new and exciting in the years to come.