Honored to be in the Top 100
Prevolv is named a "100 Best Companies to Work For" by Minnesota Business Magazine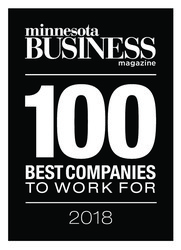 We are delighted to announce that for the third consecutive year, Prevolv has been named a 2018 100 Best Companies to Work For, by Minnesota Business Magazine! 
Helping create inspiring environments for clients, partnering with them for solutions they feel comfortable working in every day, the same holds true for our team.  We are committed to the happiness and satisfaction of our clients and our team by creating an environment of trust, partnership and fun – balance is the key to our success.  
Every year, Minnesota Business Magazine recognizes the "100 Best" Minnesota companies that reflect a holistic approach to employee satisfaction.  An anonymous online questionnaire is filled out by the employees of each participating company and as a result of their answers, the top scoring 100 companies are awarded.   Categories such as employee benefits, work environment, work life balance and overall employee happiness, determines which companies are the Best Companies to Work For and we are happy to be one of them.